choose one
for sale 3 - (scroll & read me)
FOR SALE: A PAIR OF STOP JAMBS, EACH WITH 60 ILLUMINATED STOP SWITCHES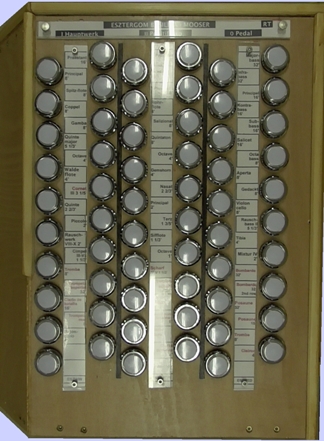 I am pleased to be able to offer for sale, a pair of Stop Jambs, Left & Right, each fitted with 60 illuminated stop switches.
The stop jambs wil work with Hauptwerk 4.x, and with later editions, as long as your licence permits MIDI OUT (as well of course, as MIDI IN). The jambs have not been tested with any earlier versions of Hauptwerk, but if the version handles MIDI OUT, they should work with those versions too.

MARK II
: Two jambs, 60 illuminated stop switches in each.
(click on the link to see a detailed document)
This offer is a pair, Left & Right, of Mk II Stop Jambs, housed in beech-ply stop jamb enclosures. Each jamb has 60 round illuminated stop switches in three double-columns of 20.
The switches are wired to connect to 60 inputs of your MIDI Encoder, which in turn connects to your Hauptwerk PC via a MIDI cable & Hub.
The LEDs are also wired, to connect instead to 60 outputs (64 is common) of a MIDI Decoder, which is driven from output of a MIDI Hub connected to your Hauptwerk computer. Advice is given on how to achieve all that.


These jambs use printed strips for stop labelling, the strips being attached vertically down the side of each double column of switches. Such strips will be supplied for several organs with these jambs, along with a template to make it easy to produce any others.